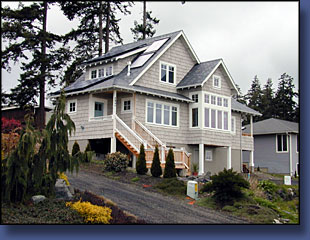 Dumenil Home
Site and Water
This 2440 square foot home is on an infill lot in Port Townsend. Pervious surfaces were used in landscaping, with no grass.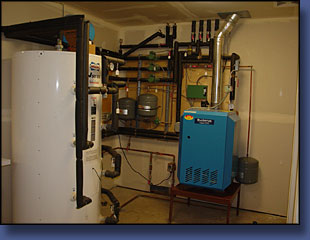 Design
The home has both thermal hot water collectors and photovoltaic roof panels with in floor radiant heat. The south-facing sunroom has concrete for thermal mass. Icynene was used as the highly efficient insulation, airtight building envelope. Interior glass doors and windows allow light to pass through the house from the skylights and transom windows. The design has multi-use spaces including with a small kitchenette upstairs for a separate unit.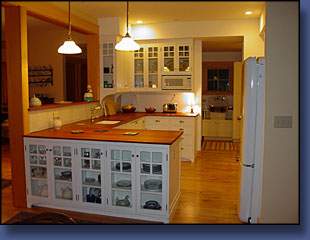 Materials
The slate looking roof is recycled plastic bottles and the flooring is reclaimed fir. Siding shingles and all doors are native wood. Wood windows have low maintenance aluminum exteriors. Tile, slate, marble and other durable, non-toxic products were used. All appliances are Energy Star and a highly efficient boiler. Even the vintage lighting uses compact fluorescents.
Energy
Energy Star appliances and a high-efficiency boiler will save future energy costs.
Indoor air quality
The cabinet boxes are made of non-toxic strawboard. All paint, sealants and glues are low VOC (Volatile Organic Compounds). Exhaust fans were installed throughout the house, including the office. No carpet was used and a central vacuum system exhausts to the outside.
Recycle
The tub, light fixtures and flooring are salvaged. Recycling was done throughout the job and continues in her pantry.