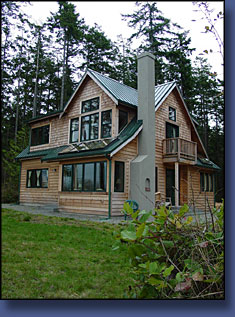 Gilmore Home
Site
This 1690 sq foot house is built next to the original house on the bluff, which has become an ADU (Accessory Dwelling Unit). Native plants were moved and replanted and a 10 foot perimeter was designated around the foot print to protect vegetation during construction. No dirt was added to or removed from the site. 100% pervious surfacing was achieved, through the use of recycled concrete pavers, gravel and existing vegetation.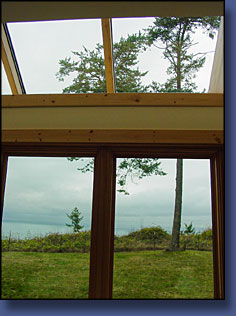 Design
South facing windows take advantage of the sunshine, despite the water view to the north. Skylight and transom windows, as well as interior windows and glass doors, naturally light the inside spaces. No garage saves resources. An efficient Rumsford fireplace is faced with salvaged bricks. Bookshelves line the stairs with a window seat on the landing, creating multiple-use spaces.
Materials
Metal roofing and wood windows with low maintenance exterior finish were used for their long life. Reclaimed fir floors and FSC certified (Forest Stewardship Council - sustain ably harvested forests) wood were predominantly used.
Energy
Energy star appliances and a high-efficiency furnace will save future energy costs.
Water
Two Coroma dual flush toilets and an on-demand water heater are part of the water conservation plan.
Indoor Air Quality
All paint, sealants and glues were low toxic. Milk paints were chosen for the kitchen cabinets. Carpet was used only on the stairs. Tile and Marmoleum provide natural bathroom flooring and kitchen countertops. The furnace area is separate and accessed only from the outside.
Recycle
The lighting, tile, bricks and flooring were salvaged materials. Building materials went to next job and scrap wood was given away or stacked for later use. Recycling was done through out the job. Cardboard scrap became compost mulch and recycled concrete encloses garden beds.