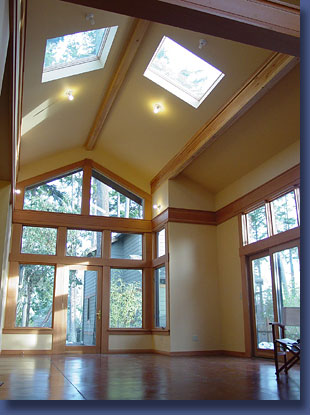 Click here to view more photos.
Rainshadow Environmental Homes
Vision
To design and construct a speculative home that demonstrates multiple ways to build efficiently designed green homes with out a cost increase from traditional building. Our goal is to maximize use of interior city lots dose to local bus routes to reduce the dependence on cars. The house is ADA flexible and designs focus on sustainable, non toxic, durable products from local sources.
Project Overview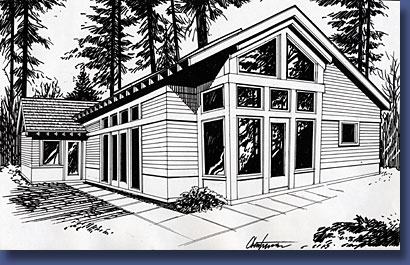 This 1300sf single family residence is located in a Port Townsend, WA neighborhood. The designer/builder sought to minimize environmental impact on the site and preserve a pedestrian green belt. Orientation of drive approach allowed preservation of existing trees. The three trees removed were milled on site. Native plants were retained.
A private courtyard is created by the placement of the buildings. Window and skylight placement creates a light interior and gives privacy from the adjacent houses.
This house is located to maximize southern exposure and integrate passive solar (minimize temperature fluctuation by storing heat in the concrete mass of the slab). Water retention, infiltration systems and pervious recycled surfaces allows storm water and runoff to remain on site. The home is constructed with FSC certified materials. The house also features its structure as finish, using products that are low VOC, nontoxic, and made of recycled materials. Exterior finishes include fiber cement boards that are durable and require little maintenance. Energy efficiency features include an on demand hot water, radiant in-floor heat and energy star certified appliances. Smart Design was used to create less waste in building materials and waste products recycled
---
What is an Environmental Home?
Site and Water
Locate and reduce dependency on automobiles
built on an infill lot to take advantage of existing infrastructure
used small machinery to reduce land disturbance
preserve and protect existing native vegetation
use slow release organic amendments
install temporary erosion control device
use pervious materials for driveway, patio and walkways
installed vegetative roof system called Eco Roof
use trees cut from site as lumber and mulch scraps
eliminate water pollutants by using soap or vegetable oil form releasers, and by not using zinc galvanized ridge cap, copper flashing or copper wires for moss prevention
Energy Efficiency
fully insulated headers, corners and wall intersections
used advanced wall framing, 24 inch on center with double to plate
sun-tempering design - optimizing solar gain through windows
optimize solar gain with thermal mass - insulate concrete slab
passive solar design - southern orientation with internal thermal mass
provided exterior shading devices - trellis, trees
installed timers for fans and programmable thermostat
installed heat recovery ventilator
on demand water heater or hot water recirculation pump with insulated pipes
provide clerestory and skylights for natural lighting
solar powered systems, including preheat water tanks, exterior lighting and photovoltaic collectors with grid inter-tie.
use wind, micro-hydro, geothermal or other site-generated renewable power
provide energy star rated heating and cooling equipment
locate utility spaces on north side of home
Water Efficiency
install irrigation system using recycled water or rainwater collection
use duel flush toilets and low flow faucets
install composting toilet
Health and Indoor Air Quality
take measures to clean and reduce dust during building process
reduce noise pollution through planting, windows and structural mitigation
use formaldehyde-free materials, including wood and insulation
use low VOC and solvent-free construction materials and finishes
minimize use of carpet
use polyethylene piping for plumbing
install timers for fans and programmable thermostats
install heat recovery ventilator
seal doors, windows, plumbing & electrical spaces against moisture & air leaks
roof and wall systems designed to drain water away from the building
install central vac system exhausted to outside
install operable windows and provide cross ventilation
detached garage or no garage, OR garage air-sealed from house. including automatic exhaust fan
install exhaust fan and whole house fan
provide balanced air pressure using controlled ventilation
install a ductless heating system
grade to drain away from building
install reverse osmosis water filtration system
design for reduced electromagnetic fields
Material Efficiency
minimize project size
use recycled and salvaged building materials
utilize locally produced materials use
FSC cert wood products
use finger-jointed framing material
avoid waste in structural design
use engineered structural products
use fly ash in concrete
use 50 year roof material
use least toxic treatment for pressure treated wood
Homeowner
design landscape that requires low maintenance to conserve water. i.e. native plants, no turf grass
install rainwater collection system for reuse
install a worm bin for composting
install compact fluorescent light bulbs in high use areas
install and use a clothesline
use non-toxic cleaners and natural products in and around the home
maintain filters and equipment
maintain a shoeless house